0€ deductible!
Starting at only 4€ per day!
Get your rental car insurance deductible refunded in case of damage, theft, fire, or vandalism.
*
*See conditions in the offers

Rent a car at the harbor in Pointe-à-Pitre, Guadeloupe, and benefit from free delivery to the Caribbean Port, with almost any rental company on our network! Rentîles enables you to compare the best rental offers at the Pointe-à-Pitre Harbor and book at the lowest price. Book in advance for maximum availability!
Your rental car at the Harbor in Pointe-à-Pitre
Nothing's easier! Book directly online with the car rental company using the search engine form. A rental agent awaits you at the docks with your car. A deposit of only 100 € is necessary to reserve the vehicle for rates over 150 €.
How does car rental work at the Port?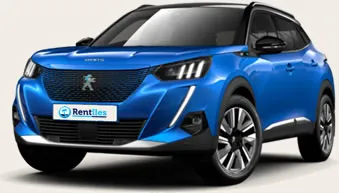 The rental company delivers the vehicle of your choice to the port entrance or to a nearby agency. You can make the most of your holiday as soon as you arrive on the island.
Rentiles recommends booking in advance, especially if you're only renting for a stopover on the island. Rental companies that accept short reservations are very rare.
When making your reservation, just before the payment procedure, simply indicate the name of your boat and its scheduled arrival time at the port. An agent will pick you up at the boat's exit and accompany you to the vehicle.
Renting a car in Guadeloupe during a stopover will save you time and give you freedom.
To book your rental car at the Pointe-à-Pitre port, use the search engine at the top of the page, select your car and options, provide us with your contact details and the arrival time of your ship, and pay online!
Your arrival at the Pointe-à-Pitre port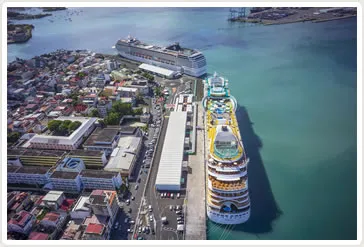 The Pointe-à-Pitre maritime station welcomes nearly a million passengers each year, more than 200,000 of whom are cruise passengers.
The port, very close to the center of Pointe-à-Pitre, is located in the heart of the archipelago. It comprises the Old Port to the east and the Port of Pointe Jarry to the west. These two distinct entities highlight its expansion over the years.
There are numerous activities available in Pointe-à-Pitre that will enhance your trip: museums, frequent local markets, and vast white sand beaches...
Recently, Rentîles has also started offering car rentals in Marie-Galante!