0€ deductible!
Starting at only 4€ per day!
Get your rental car insurance deductible refunded in case of damage, theft, fire, or vandalism.
*
*See conditions in the offers

Bouillante, the green destination of Guadeloupe, untouched by pollution, is a paradise for nature lovers!

On the Caribbean seaside, numerous activities are offered: sea kayaking, scuba diving (world-renowned), excursions, or game fishing tours!

On the land side, you'll have the opportunity to explore numerous waterfalls and rivers that sculpted the ancient volcanoes. The fauna and flora in the canyons of this National Park are exceptional. Take a swim in the natural pools where the fresh water is warm!
How to collect your rental car in Bouillante?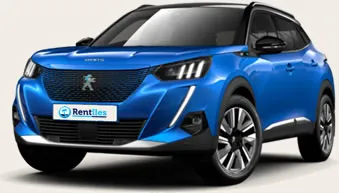 The rental agencies from the Rentîles network can deliver your car right to your residence or hotel. The prices listed include potential delivery fees. You can fully enjoy your holiday without worry.
Tip: if you're traveling during the peak season, the earlier you book your car, the lower the prices will be. In December or January, it's sometimes impossible to find a rental car at the last minute.
What to do in Bouillante?
If you visit in June, don't miss the Nautical Fair: exhibitions, initiations, competitions. Everything comes together to offer you a fantastic day!
You can also enjoy two marked hiking trails to admire the sea and the mountains with breathtaking views:
The Petit Malendure trail circles the cliffs in the north. It's the more challenging of the two with its rocky paths where you can admire the Pigeon Islet and many small creeks.
The Machette trail starts in the "heart" of Bouillante, takes you to the Pointe Lézarde with its amazing viewpoints, then descends to the Anse à Sable beach with its unique grey sand. You can also discover the warm spring of Bain du Curé, one of the many natural springs around Bouillante.
It's highly recommended to leave your vehicle at the destination or plan a round-trip as the two trails do not loop back to their start point.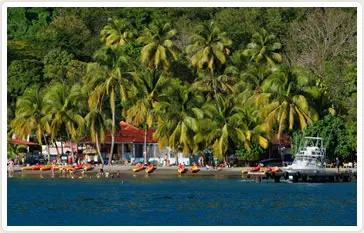 The Parc des Mamelles is a zoo in Guadeloupe housing 85 rare or endangered species from Guyana and Guadeloupe. It's located within 4 hectares of tropical forest.
A visit lasts 2 hours, during which you will discover all the beauty and diversity of the local fauna. It's even possible to walk on suspended bridges at a height of 20 meters to get a glimpse of wild orchids and pineapples.
Visit our interactive map of Guadeloupe to unveil all the activities and points of interest around Bouillante!