0€ deductible!
Starting at only 4€ per day!
Get your rental car insurance deductible refunded in case of damage, theft, fire, or vandalism.
*
*See conditions in the offers

Would you like to travel to Les Saintes from Guadeloupe? You can directly book your rental car at Trois-Rivières port. You'll be able to board a ferry that ensures daily crossings. With our network of rental agencies, you're guaranteed to find the vehicle that you need.
Your rental car at Trois-Rivières port
Use the search engine on the Rentîles site to compare all the offers from our professional renters. You just need to choose your type of car and book it online. The displayed prices include car delivery, insurance, and VAT.
How to take advantage of a rental car at Trois-Rivières port.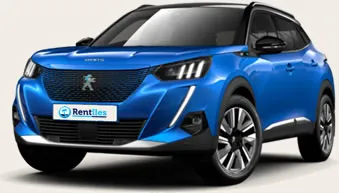 As soon as you arrive in Trois-Rivières, you can collect your vehicle. An agent will deliver it directly at the port or at the address you provided during booking. Rentîles strongly recommends booking in advance to benefit from discounts of up to 50%. Near the port, you'll find a large car park where all the ferry companies are located.
Then, you'll have the opportunity to board your rental car to travel to surrounding islands like Les Saintes. Alternatively, you might want to visit Jarry, the economic center of Guadeloupe, located 44 km away.
Whether you're in Trois-Rivières for vacation or business, you'll find a wide range of vehicles on our site.
Discover Trois-Rivières and its surroundings
The town's name originates from the three rivers that cross it. This expansive town is located in the southern part of Basse-Terre and attracts many visitors. From its charming port, you can take a boat to visit the islands of Les Saintes, which are only 15 km away.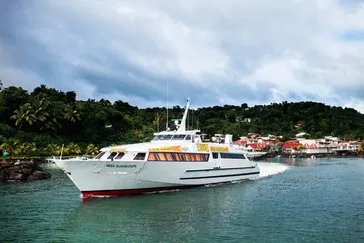 You can spend the day here, stroll along the narrow streets, swim at Pain de Sucre, or climb Chameau, the highest summit in Les Saintes. Many treasures await discovery around Trois-Rivières. With your rental car, you can easily visit the paradise beach of Grande Anse, famous for its black sand. The nearby archaeological park of Roches Gravées will teach you a lot about the island's first inhabitants. If you prefer venturing deep into the tropical jungle, the Carbet waterfalls are about 20 km (12.5 mi) from Trois-Rivières.
You'll find numerous hiking trails in the state forest of Basse-Terre. With a rental car at Trois-Rivières port, you can traverse the entire island of Guadeloupe and discover all of its beauty.