0€ deductible!
Starting at only 4€ per day!
Get your rental car insurance deductible refunded in case of damage, theft, fire, or vandalism.
*
*See conditions in the offers

Saint-Claude is a town located on the island of Basse-Terre in the Lesser Antilles of Guadeloupe. This town is mainly famous for its thermal springs. Saint-Claude is the only town in Guadeloupe that is inland.
You can visit: The Mont-Carmel Mansion (a host house from 1726), the Soufrière Yellow Baths, and Le Saut de Matouba (Matouba Jump).
Please go to the official site of Saint-Claude or the tourist office to obtain all the information.
If you're staying in Saint-Claude and want to reach the sea coast, you'll need a rental car. Find the best prices using the booking module above.
How to collect your rental car in Saint-Claude?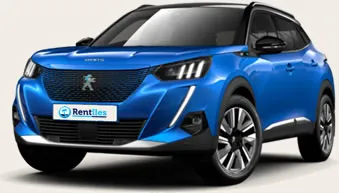 The rental agency you've selected can deliver the car to your place of residence or at a custom meeting point. This delivery option is mentioned in the search results for your rental car.
Some agencies will prefer you to pick up the car in Saint-Claude so that they can issue the rental contract directly at the agency.
Activities and places to visit in Saint-Claude
The Soufrière is a volcano located at Saint-Claude in the township of Basse-Terre. It's one of the 9 still active volcanos within the Lesser Antilles and it's the only one located in Guadeloupe.
In Creole, people call it "vié madanm la" which means "the old lady".

The viewpoint is unique in Guadeloupe and allows you to have a global view of the mountains of Basse-Terre, Grande-Terre, the Caribbean Sea, the island of Saintes, Dominica, and Marie-Galante.
The trail that goes through the banana plantation towards Matouba Jump will show you a natural pool between the rocks, filled thanks to a powerful but small waterfall.
The Yellow Bath is a warm water natural spring at the foot of the Soufrière volcano, you must absolutely see it if you go to Guadeloupe!