0€ deductible!
Starting at only 4€ per day!
Get your rental car insurance deductible refunded in case of damage, theft, fire, or vandalism.
*
*See conditions in the offers

Renting a car in Pointe-à-Pitre with Rentîles is easy! Rent a car online and choose either to have it delivered to a location of your choice or to pick it up directly at an agency.
Do you need to rent a car in Pointe-à-Pitre?
Simply compare the best rental offers using the search form above. A deposit of 100 € is all you need to secure a rental costing more than 150 €.
Rent a car in Pointe-à-Pitre
The rental agency members of the Rentîles network deliver your car either to your hotel or your place of residence in Pointe-à-Pitre. The indicated price in the search results is the total price (VAT, delivery fees, insurance, etc.).
No additional fees will be requested on-site. Depending on the season, you can take advantage of the low prices offered in the Rentîles network!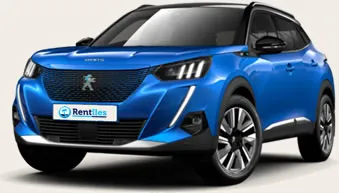 Depending on the rental agencies, the car can either be delivered to you (if the agency is not located in Pointe-à-Pitre) or picked up at the agency.
Discover Pointe-à-Pitre
Pointe-à-Pitre is close to the Guadeloupe international airport (accessed via RN 5) and the port where all the cruise and freight ships dock.
If you stay in Pointe-à-Pitre, don't miss the historical monuments such as the Schœlcher and Saint-John Perse museums, Frébault street, the open spice market hall, and the Saint-Peter or Saint-Paul churches.
Rentîles will advise you about must-see activities upon your arrival in Pointe-à-Pitre:
Schoelcher museum: This museum is a tribute to the life of Victor Schoelcher, a journalist who played a major role in advocating for the abolition of slavery.
Saint-John Perse museum: Admire the lovely Creole costumes and follow the life of the poet Marie René Leger, also known as Saint John Perse.
The Victory Square celebrates the victory of the "Sans-culotte" people and the end of slavery.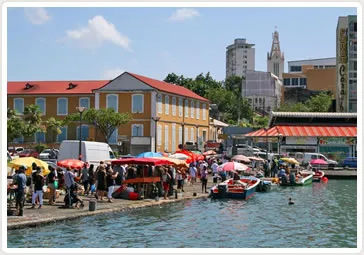 It's also recommended to discover the statues of Colonel Ignace, Louis Delgrès, and Mulâtresse Solitude, and the Saint-Peter and Saint-Paul Cathedrals.
As you can understand, Pointe-à-Pitre is the perfect town to visit while you stay in Guadeloupe!