0€ deductible!
Starting at only 4€ per day!
Get your rental car insurance deductible refunded in case of damage, theft, fire, or vandalism.
*
*See conditions in the offers

Book with Rentîles, your best car rental dealer in Martinique! Benefit from our negotiated rates and book your car rental with one of our independent agencies in the French Caribbean. Rentîles enables you to choose from the greatest offers from our car rental agencies and to book your car directly online without any intermediates. Renting a car in Martinique has never been so easy with Rentiles!
You need to rent a car in the French Caribbean?
How to hire a cheap car in Martinique!
Quick and easy, use the search engine at the top of the page to display the latest rental offers matching your requirements. Compare the best rental deals and instantly book your car with direct payment online to the company. A deposit of 100 € per 500 € rate is charged for any car rentals over 150 €. Cancellation is free of charge up to 7 days prior to your arrival date.
Which car rental company to choose from for your vacation on the Martinique Island?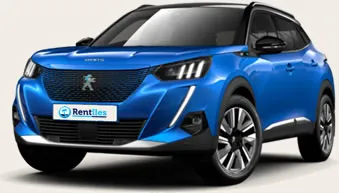 There are plenty of car rental agencies available, throughout Martinique. If you land at Aimé Césaire Airport and need a car upon arrival, you have two options:
Go through a traditional car rental agency. Although, during peak periods, waiting at counters can be particularily long, especially after a long-haul flight.
Use Rentiles car rental network: often cheaper than traditional car rental agencies, with a more personalized welcome. The car hire company will transfer you from-and-to the airport.
Members of the Rentiles car rental network will deliver your car directly to your accommodation (hotel, residence, etc.).
Tips for driving in Martinique!
The rules of the road in Martinique are exactly the same as in metropolitan France. Due to the small size of the island, distances are not that important. That's why car rental companies in Martinique, offer you a package with unlimited mileage; saving your caribbean budget.
If this is your first trip to Martinique, don't be surprised by all the hitch-hikers on the island. This is a widespread practice: hitch-hikers usually only wait about 10 minutes for a passing car to pick them up.
Discover Martinique Island !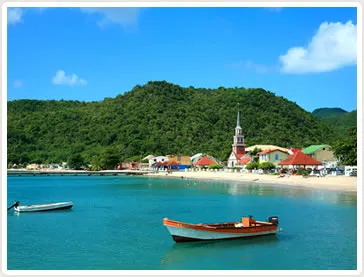 In the Lesser Antilles, between the Atlantic Ocean and the Caribbean Sea, Martinique is an island known for its beautiful landscapes, beaches and its tropical Creole heat!
The Martinican roads are quite curvy, due to the island's volcanic relief, so you need to be careful, especially when driving in the rain. Rentîles advises you to rent a diesel car, if you have more than two passengers, the heavy motor power will help you climb the hilly slopes of Martinique.
Try to avoid the outskirts of Fort-de-France early in the morning and late in the afternoon in order to avoid traffic jams.